Welcome back to my blog, esteemed reader!
In June, we organized the 11. UAVP-NG Multicopter Meeting in Zurich, Switzerland. It was a great event with good weather. Lots of folks joined and we had a lot of fun.
Besides that Ralf, one of our software and hardware developers, finalized the first prototype of the new HW-0.30-mini in the last month. We sent the Gerber files to our chinese producer and two days ago we finally received the first prototype PCB of the new UAVP-NG HW-0.30-mini-r0 boards!
The boards look great. I used my new Fujifilm X-T1 to take the pictures. It seems I still need to learn a lot - finding nice lightning was not easy and I finally resorted to normal sunlight, after failing to get sensible pictures using two table lamps.
The new HW-0.30-mini-r0 PCB in 6 layers has our classic 'mini' hardware size of 55x55mm. All features of the bigger hardware are included - except the second STM32F4 CPU and the dual port RAM, which wouldn't fit on a PCB of this size.
Top side of the new HW-0.30-mini-r0 PCB (full size):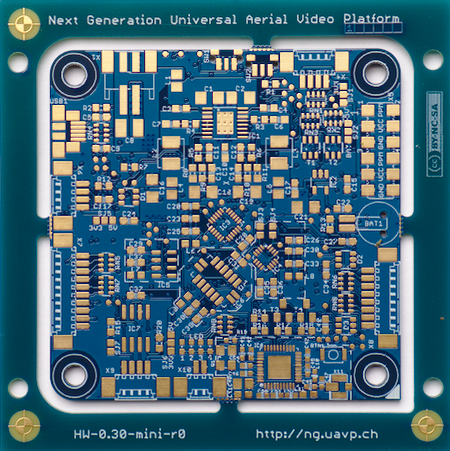 The bottom side of the new HW-0.30-mini-r0 PCB (full size), the footprint of the STM32F4 processor is nicly visible: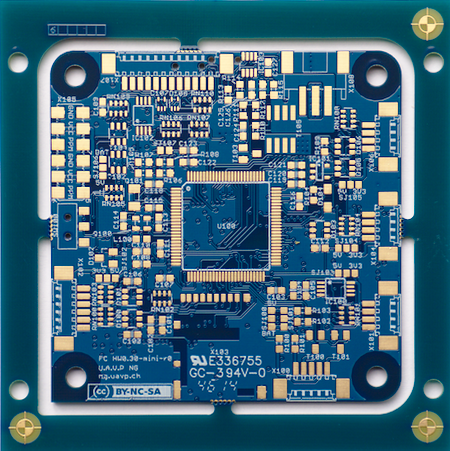 The boards look nicely made and I hope we will get them airborne soon!
In the next weeks we will assemble some of the new PCB and test them throughly. Should everything be fine, the new PCBs will show up in the UAVP-NG Shop.