I'm sorry that you did not hear from me for such a long time!
It was holliday time so I went diving in the Red See on a dive safari and was quite busy the rest of the summer. Today I finally found a little bit of time to write a new blog article. Expect some more blogs about my hollidays and a nice collection of underwater pictures and movies soon!
Yesterday we took a cam into the air for the first time! The pictures are not really spectacular but I thought I should not let you miss them.
We mounted a Canon Powershot S50 directly under the UAVP. It had no servo support or anything and was turned by 45 degrees so that the landing gear wasn't showing on the picture. The whole cam we mounted in a box of styropor and attached that to the backside of my UAVP.
The cam was switched to series-pictures and we blocked the cam's trigger button.
But take a look for yourself: The first aerial pictures
One of the better pictures is this one: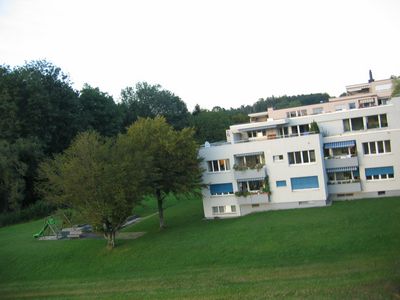 We could even shoot a pictures of ourselfes while flying: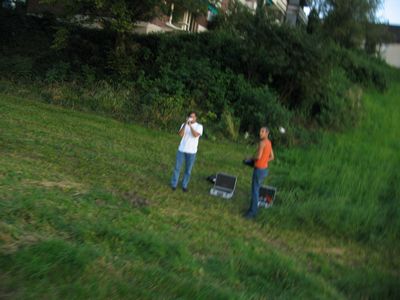 Later on we dismounted the cam and did some flights in the half dark. After we finished the first battery we mounted a new one and wanted to start again. I don't know what I thought but since my flight timer was not set to zero because of the first flight, I wanted to reset it.
For that I simply switched of the remote control! What a big mistake.
I already had switched my UAVP into flight mode and so, when I switched off the remote control the UAVP lost RC connection! The receiver switched to fail-mode and switched the throttle channel to hoover-power (another bad idea of mine which I corrected now)...
But watch for yourself what happend:
Direct link: Download the FLV Movie (0.5MB), Download the WMV Movie (0.8MB)
I was lucky... :) Nothing really bad happened!
I broke two screws and I had to replace the antenna, which came into one of the propellers. Everything is already fixed again... :)